A Word from Dr. Elcano:
Through my experience, I have found that in order to provide a comfortable and enjoyable dental environment, patients must understand what is happening and why.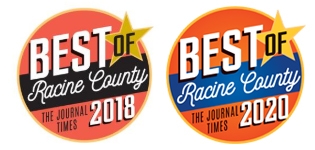 I run my whole practice with an emphasis on patient education and interaction. My focus is always on providing my patients with the facts they need to not only understand their treatment plan, but to give them the knowledge and power to participate in decisions about their dental health.
My staff and I share a commitment to providing high-quality dental care in a friendly and relaxed atmosphere. We are honored to care for the people of Racine and Kenosha.
Personal:
I enjoy baseball, fishing, golf and music.
Education:
Doctor of Dental Science, Marquette University, 2003
Affiliations & Memberships:
American Dental Association
Racine Dental Society
Wisconsin Dental Association
Patient Reviews:
"I appreciate the pain-free work that Dr. Elcano does and the friendliness of him and his staff. I have always been treated with respect and appreciate that I leave with a smile and a feeling of well-being!"
— Diane M
"Dr. Elcano and his team are patient oriented and deliver all services professionally."
— Anonymous
"I don't care to go to the dentist, never have. It's a huge source of anxiety for me. Dr. Elcano made me feel at ease and knew just how to take care of me."
— John S.
"Racine Dental Group with Dr. Elcano is a very scary visit made easy. I am very happy to visit a dentist now. He and his staff are wonderful. I am made to feel special on every visit. Do not ever let him go."
— Richard M.
"Racine Dental Group was a fantastic experience all around. Everyone was friendly and helpful, and the actual service was perfect. I went to Dr. Elcano and with his outstanding knowledge and personality, it was the best dental experience I have ever had. Also, his hygienist Mindy did a perfect job considering I hadn't been to the dentist in a while. Thanks for everything!"
— Robby V
"I recently had oral surgery. As always, the receptionist is warm, friendly and helpful, the doctor and his assistant are charming and make you feel at ease."
— Rozsette G