Sign up. Save. Repeat.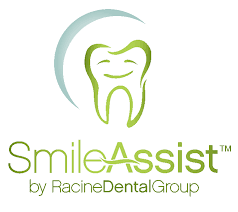 SmileAssist™ is a valuable dental assistance program offered exclusively by Racine Dental Group. It provides low-cost, high-quality dental care to people who have no dental insurance. SmileAssist is renewable each year and is open to everyone in the Racine area, not just current Racine Dental Group patients.
Already enrolled in SmileAssist and just want to renew?
Download the latest enrollment form
here
. You'll be pleased to know that we have added new features to the program like a special discount for seniors 62+ and low-cost preventative care for toddlers & infants. See the
enrollment form
for all the details!
Want to learn more about SmileAssist before signing up?
Here are some highlights of the program:
√ Yearly preventative care for one low price
√ 20% discount for seniors 62+ on all prescribed services* (15% for everyone else)
√ Plans and savings for people of all ages, including infants and toddlers:
Adult/Young Adult (15-17) — 1 comprehensive exam, all diagnostic x-rays as prescribed, 2 fluoride treatments, 2 cleanings, 1 oral cancer screening
Child (4-14) — 1 comprehensive exam, all diagnostic x-rays as prescribed, 2 fluoride treatments, 2 cleanings
Toddler/Infant (3 or younger) — 2 comprehensive exams, 2 fluoride treatments
New to Racine Dental Group?
We've been Racine's go-to dental group since 1969. Our highly trained dental professionals are accomplished, experienced and up to date on the latest techniques and technologies. We have our own on-site lab and offer all dental services under one roof, from braces to implants, cleanings to crowns. Look around this site to read up on our dentists, specialists and services. And if you're in Racine, check out our award-winning, state-of- the-art facility at 1101 South Airline Road. It's like no other dental facility you've ever seen!
Got questions about SmileAssist?
Call our SmileAssist Administrator at (262) 619-7739.
* Payment for all non-covered services is due at time of service.