A Word from Dr. Cruthers:
My goal as your dentist is to give you a great experience and to exceed your expectations each and every visit. Attention to detail, comfort and your well-being is our staff's priority. Staying current with the changing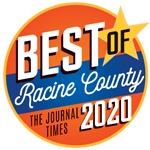 technologies and utilizing the latest advancements where it is safe and appropriate, is my obligation and commitment to you. As a second generation dentist serving Racine, I am proud to be able to continue a long tradition of quality care.
Today, at Racine Dental Group, I offer comprehensive care utilizing the latest advancements in implants, lasers and digital dentistry. Our large, multi-specialty practice allows me, as your dentist, to coordinate and oversee all aspects of your treatment. This saves you time and ensures quality and continued care.
The dental profession is always evolving and changing. As your dentist, it is my professional commitment and obligation to stay current with the latest techniques to provide you the highest level of care available.
Service & Volunteering:
I was awarded a full scholarship to dental school by the U.S. Navy and started my career as a Naval Dental Officer. I served one year with the marines and 3 years overseas on a submarine tender home ported in Guam.
I participate in the Health Care Network, an organization that provides needed treatment to those in the community who are least able to afford it.
Personal:
When I am not practicing, I enjoy sailing, music, traveling and spending time with my wife and three sons.
Education:
Doctor of Dental Surgery, University of Minnesota, 2000
Advanced Education General Dentistry Residency, U.S. Navy, 2001
Esthetic Dentistry Residency, University of Minnesota, 2006
Implant Surgery and Restorative Residency, McGarry Implant Institute, 2010
Associate Fellow, American Academy of Implant Dentistry, 2014
2017 Graduate of the Contemporary Restorative and Esthetic Dentistry Program – University of Minnesota (500hrs)
Affiliations & Memberships:
Fellow – Academy of General Dentistry
Academy of Facial Esthetics
Academy of Laser Dentistry
American Academy of Implant Dentistry
American Dental Association
Racine County Dental Society
Wisconsin Dental Association
Patient Reviews:
"I needed extensive work done and required a second opinion. I was referred to RDG by a friend of my husband who is a patient of Dr. Cruthers. I can't even begin to express how extremely happy I am with this decision. Everyone at RDG is so helpful and kind from the welcome you receive at the front desk to Dr. Cruthers entire staff. I have been dealing with Fran for the insurance side of things, she is both compassionate and helpful. If you have any billing questions or just don't understand something she is there to help. Amanda, she is the type of person any employer would love to have. She's making this difficult process a little easier by her kindness and her ability to make me feel as ease and even laugh on any given day. As for Dr. Cruthers, he took me on as a patient with a lot of problems and explained to me that it would be a long process and he's right. But most importantly he gave me make my SMILE. I have already referred family and friends to Dr Cruthers and will continue to do so. THANK YOU SO MUCH"
— Terri S.
"Had teeth checked and cleaned saw dentist, explained that a chip that was repaired had come out, he fit me in to repair it, then decided to cap it so made an appointment not that far off. EXCELLENT, PROFESSIONAL, AND FRIENDLY SERVICE. I HIGHLY RECOMMEND."
— William L.
"Excellent and professional visit, I will continue to use his services."
— Anthony H.
"I feel comfortable & confident with Dr. Aaron & staff. They give good service and provide excellent care & counsel for their patients. I would recommend them to my friends and family."
— Selena G.
"I appreciated that Dr. Cruthers stayed past his current day to repair my broken tooth. What really impressed me: It was the night prior to his vacation, and he stayed past his scheduled appointments, to not only see me, but personally repaired the tooth I broke off just a couple of hours prior. The company I retired from offers several dental plans with Racine Dental Group as one of the choices. I chose the right place years ago and plan to stay with them. Thanks for great, prompt service."
— John C.
"Thank you to Dr. Cruthers and Jen and Amanda! I am the biggest chicken when it comes to work on my teeth. In fact, I had been putting this crown work off for months. Everyone was working to make sure that I was pain-free during the procedure, and they were successful. I am a new patient, but I feel cared for like I had been a patient for years. Thanks again!"
— Kathy T.
"Dentist's practices always make me nervous. Aaron and his team are relaxed, yet professional, and soon put me at ease. My first dentist experience in the USA, and I am sold. My recommendation to use Aaron has been exceeded after one visit with treatment for a cavity. My smile now looks great again. Thank you. Dentist of choice for the next few years while I am living in the states. Excellent team :)"
— Sean R.
" I've been a customer for almost 20 years now, and I must say, their service is excellent. The staff is very friendly and informative. If you're looking to switch dentists or new to the area, give them a call. You won't be disappointed."
— Timothy S.
"Excellent care! Dr. Cruthers saved a tooth of mine while a prior dentist could not even diagnose the problem. Fran, his receptionist is amazing. Excellent follow through."
— Debra K.
"Dr. Cruthers has the best support staff! They are friendly and professional. Their attitude makes going to the dentist a little less stressful. Thanks ladies!"
— Anonymous
"My appointment was swell, on time, professional, thorough, no pain, pleasant (both Amanda & Dr. Cruthers). Two hours in the chair weren't bad at all (at least for me!) I almost look forward to my next appointment."
— Kathy O.
"I have been a patient with Dr. Cruthers for 14 years now. He is expert at working with you to elevate your dental care to the highest level possible. His team shares his views and work in unison to accomplish this. They are very accessible as well and can answer any questions you have along the way. Consistent high quality care–I consider myself very fortunate! The people I have referred to him have all stayed!"
— William L.