A Word from Dr. Johnson:
Patient-doctor relationships are the foundation of excellent dentistry. As a provider of state-of-the-art care and quality dental treatment, I am passionate about developing relationships that will last a lifetime.
While treating each patient like family, it is my mission to make patients comfortable and relaxed in the dental chair. This is accomplished by listening to and understanding my patients' needs and concerns. At the same time, it is important that my patients understand all treatment options, and thus feel confident in their decisions. Our team works hard to improve the oral health and enhance the dental esthetics of others.
Service & Volunteering:
One thing I greatly enjoy about the dental community is the volunteerism exemplified by its members. I have been involved with Give Kids a Smile Day, Mission of Mercy, City on a Hill, as well as dental mission trips to Nicaragua and Honduras.  I look forward to continuing my involvement and giving back to the community.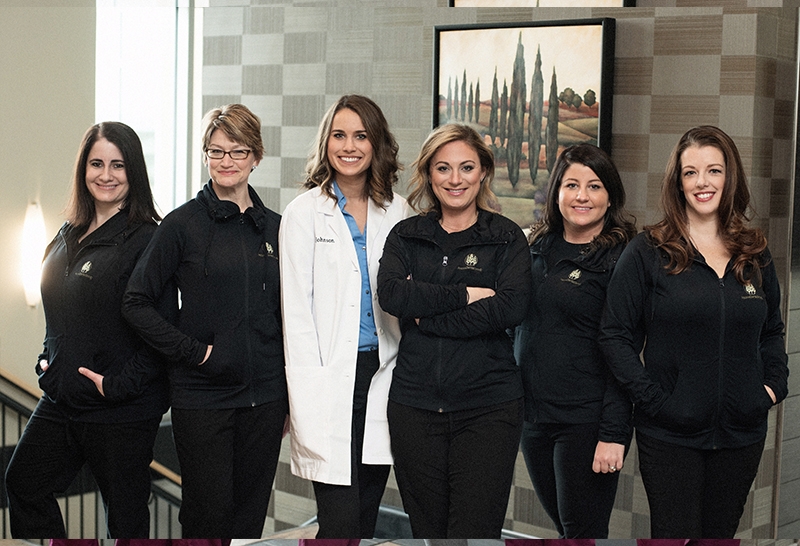 Personal:
I grew up in Stoughton, Wisconsin and completed my undergraduate studies at UW-Madison. My dental education was completed at Marquette University, however, I am still a diehard badger fan — Go Badgers! My husband and I have one child (a golden retriever) who keeps us busy. Outside of work, we enjoy hiking, canoeing, backpacking and spending time with family.
Education:
Doctor of Dental Surgery, Marquette University School of Dentistry
Affiliations & Memberships:
American Dental Association
Racine County Dental Society
Wisconsin Dental Association
Testimonials:
Beth Ashton Gilmore (Facebook): "I am a terrified FREAK about going to the dentist. But my new dentist, Leah Johnson, at Racine Dental Group, is AH-MAZING. I have horrible teeth–no matter how much I brush, I always have cavities. She just gave me a filling and it was relatively painless and so easy. I think my days of anxiety going to the dentist are over! Thank you Leah and Lisa for taking such great care of me! #lifelongcustomer"
Larry DeRosier (Facebook): "I just wanted to write about my awesome dentist. I went to the same dentist for 36 years , then tried two others and they were not a fit. Dr. Leah Johnson is upbeat and very kind. She also makes it easy for you , when your concerned about dental work. She is very quick and has no pain. I give her 5 out of 5. Lisa Kaprelian makes it comfortable and soothing as she comes out to get you till the procedure takes place. I give her 5 out of 5 as well. Thank you Ladies for the great work. I appreciate both."
Angie Raddatz (Google): "This was my first time at this clinic as we just moved here. I was in pain and needed to see a dentist as an emergency. Dr Johnson and staff were very kind and knowledgeable. It was warranted that I have oral surgery that day and Dr Rivas did a great job. Thanks to all.."
Betsy Larson Marusic (Facebook): "Dr. Leah Johnson is an exceptional dentist. She made me feel at ease with her easygoing personality, knowledge and skill. She explained everything very well and I couldn't be happier with the work she's done. I'm switching my whole family over to Racine Dental, it's a very pleasant environment, and everyone is very friendly and welcoming."
Todd Hannemann (Facebook): "I recently started going back to a dentist after many years of being scared. Dr. Leah Johnson and her framework of Lisa (luv ya), Sam (Phd of my cost control expert) honestly makes me feel no pressure to go back as often as I should. I'll take a vaca day to keep my teeth up to date. Love you guys, smiles and personalities! 1 in a million to this patient…#justsayinn"